Oregon's 2013 Legislative Session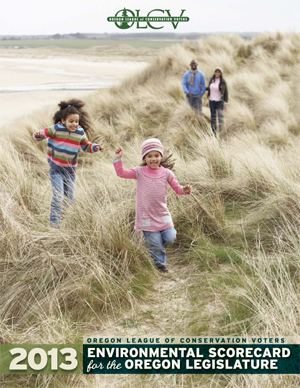 See scorecards from previous years.
Important Steps Forward, Missed Opportunities
The 2012 election saw some big wins for the environmental community – a pro-conservation majority and new leadership in the House of Representatives, to start. But during the 2013 Legislative Session, all eyes were on the Senate. Would they be able to match the new pro-conservation House in taking meaningful steps forward on climate change, preserving our special places, and protecting our families from harmful chemicals?
Sometimes the answer was yes, but on the most significant legislation, the answer was no.
And during the 2013 Legislative Session, it seemed the environment took a back seat to other important issues – a disappointing trend, given the critical need to protect our natural legacy. Despite that challenge, as always, OLCV worked closely with our 44 Oregon Conservation Network (OCN) partners to pass pro-conservation bills and stop rollbacks to existing environmental protections.
Read more: Oregon's 2013 Session Summary
Dive into the 2013 Environmental Scorecard:
Notable Leaders

Rep. Jules Bailey
Environmental Leader of the Year

Sen. Jackie Dingfelder
Watchdog of the Year

Sen. Alan Bates
Perseverance Award

Rep. Shemia Fagan
Perseverance Award

Rep. Alissa Keny-Guyer
Dynamic Duo

Rep. Jason Conger
Dynamic Duo

Rep. Ben Unger
Rising Star
Find your legislator:
Need to look up your legislator? Enter your address here to find out who represents you.
Explore the bills:
The Bill Graveyard
The Scorecard shows how legislators voted on bills that made it to the House or Senate floor. But many other bills – good and bad – never make it out of committee. Others fail on the floor, while still others are sent back to committee before all legislators can be held accountable by a vote. We highlight the best of the best and worst of the worst in our Bill Graveyard.